Views from the Porch
May 2022 News
Congratulations to our new future homeowners
Four lucky families were selected to be future homeowners through a lottery that was held on April 25. Meet out newest future homeowners:
Abdellah, his wife, brother and father will be purchasing the rehabbed historic duplex home in Peabody. They had all previously been living in a cramped apartment with mold and roach issues.
A three-bedroom duplex in Salisbury will be sold to Rossana, a single mother with two daughters and a baby boy who have had to move so many times in the last five years.
In Lawrence, the three bedroom will become home to Ana, her two sons and her partner, all of whom had been living in 600 square feet without heat but with mice.
And in the four bedroom home in Lawrence will be Yenny, a single mother of three who had been living in an apartment with only two bedrooms and in desperate need of repairs.
We are so happy to be able to help these families move toward a more stable future through affordable homeownership. We hope you'll follow along their Habitat journey with us as they will soon begin their sweat equity hours.
Support Ukrainian Refugees
Europe is facing this century's largest refugee crisis due to the war in Ukraine. More than 10 million residents of Ukraine have been forced to leave their homes and the security of shelter - most of these refugees are women and children.
Habitat is on the ground in Romania, as well as Poland, Hungary and Slovakia — helping meet the massive shelter needs of displaced families.
Roberto Patrascoiu of Habitat for Humanity Romania says "In the past one and half months...we've been shattered by what we've seen... I almost dissolved into tears."
Because Essex County Habitat has a partnership with Habitat Romania, having sent several volunteer groups there in the past, we feel a strong call to support their work and ask you to join us.
Please watch the video and read about Habitat's emergency response, then give generously to support the Ukrainian refugees now.
Be sure to select "Romania" under "My donation is for" on the donation form.
Cost of Home is a five-year advocacy campaign through which local Habitat organizations, partners, volunteers and community members in more than 300 communities nationwide are working to increase housing affordability for 10 million people.
Here are some disturbing facts about the cost of home in Massachusetts:
Don't miss your chance to Golf Fore Homes
Spring is here! Its time to hit the links for a good cause. And there are only a few foursomes still available.
With the Golf Fore Homes Golf Tournament only a few weeks away, and the last few golfer spots filling by the day, its time to register to play! Its the perfect way to enjoy the spring air, and attend a safe event for a great cause.
You'll be raising funds to give 18 of your neighbors in Essex County the opportunity for a brighter, more secure future through affordable home ownership in one of the 18 homes we currently have permitted or under construction. These families really need your help.
Golf Fore Homes Golf Tournament
Tuesday, May 31, 2022
1:00pm Shot gun start - Scramble format
Ferncroft Country Club, Middleton, MA
For non-golfers, there are still several sponsorship opportunities left starting at only $250!
Click here to register to golf, learn more about the day, or review sponsorship opportunities.
Thank you for your support
Many thanks to everyone who supported us on a build site or at a ReStore this past month! These are just a few of those who did:
We'd also like to recognize the following businesses that offered their support:
And Bill Mahoney who wired our newest office space in the Danvers office for internet. (He's camera shy!)
Cars for Homes
Did you know? In addition to building new houses, we also partner with families in need of a new roof, a wheelchair ramp, or other repairs.
Learn how you can also make a difference by donating your old vehicle to help support our work: https://bit.ly/37tKx5S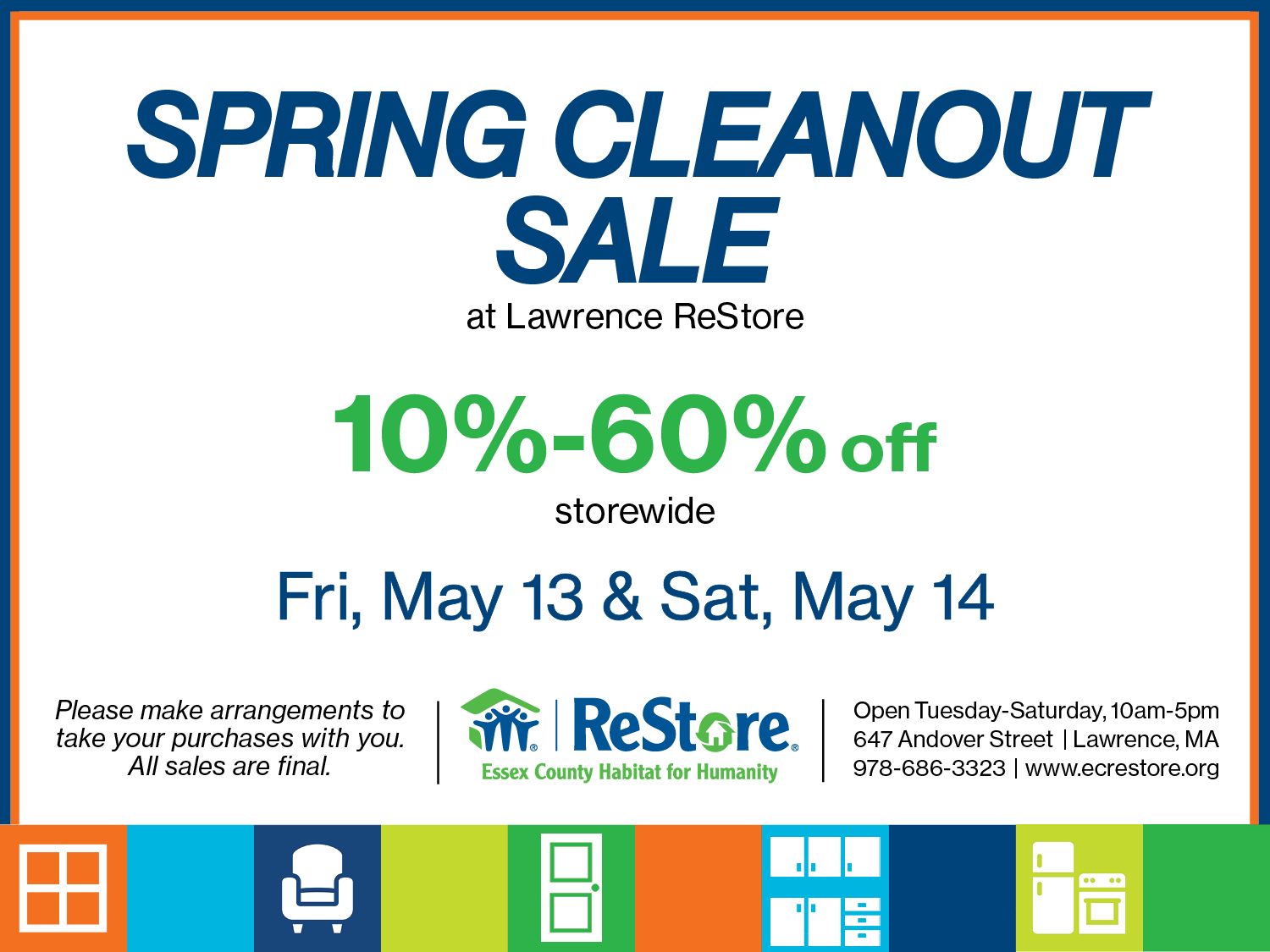 Visit the Lawrence ReStore today and tomorrow for great prices on fabulous merchandise! At the Lawrence ReStore only.
Lawrence ReStore
647 Andover Street
978-686-3323
Peabody ReStore
58R Pulaski Street
978-587-3077
Our Contact Information
*{{Organization Name}}*
*{{Organization Address}}*
*{{Organization Phone}}*
*{{Organization Website}}*
*{{Unsubscribe}}*